Self-Paced PMP Exam Prep – Only

€266 (VAT not included)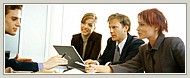 This course is for anyone preparing to sit for the PMI® Project Management Professional (PMP®) exam. Our PMP® Self-Paced Exam e-course will cover each of the ten knowledge areas, plus the Professional Responsibility area, and the five process groups covered in the PMBOK® Guide. Through lectures, practice exams, and practical exercises, participants will focus on key concepts, terms, and principles necessary for successfully passing the PMP® exam. In addition, participants will become familiar with the format and makeup of the exam.
When you successfully complete this class, you will also be able to claim 35 contact hours on your application for the PMP® exam.
Why You Should Buy This e-Class

  Earn 35 contact hours**

  Supports new January 2016 PMP Exam Content Outline (ECO) changes

 Learn useful techniques for preparing for and taking the PMP® exam


  Be able to identify the processes within each knowledge area


  Learn to apply knowledge to situational types of questions


  Learn to select the best answer from four choices


  Flexible and convenient


  Self-paced (not too slow, not too fast), access precisely when needed


  Self-directed and designed around the learner


  24 X 7 availability for six months


  Contains all the information necessary to pass the test


  Does not require physical attendance


  Travel time and associated costs are eliminated


  Learn valuable PMP® exam tips and tricks


  Study at home, work or on the road


  Use the tools best suited to your learning styles


  Pay less that other comparable products


  Apply PMI's® professional responsibility policies to project scenarios


  Practice over 1000 exam questions

** Click here to see how we assign the 35 contact hours.
About the Course
Our Project Management Professional PMP® preparation e-course maps to the PMP® certification objectives and is designed to help a project manager prepare for the PMP® exam. The PMP® Exam Preparation e-course teaches the key elements of successfully managing a project.  
Our self-directed environment offers you a fast and easy way to prepare for the Project Management Professional Certification Exam. It provides a convenient alternative to classroom training allowing you to study at home or work when it is convenient for you. E-Learning environments have increased knowledge retention by up to 25 percent over traditional methods, according to an independent study by J.D. Fletcher (Multimedia Review).
Please note that you will have access to this course for a six-month period that begins when you enroll in the course (using the enrollment key you are given after your purchase).
The Right Tool!
ReadySetPass is the learning tool you need to pass the PMP® Exam. Our realistic questions database helps you determine what you need to know and guides you on the answers to what you don't. With the flexibility in the schedule of e-learning you'll have everything you need to get the job done right. Increase your project management knowledge with this e-learning course. Whether you are improving your project management job skills or preparing for certification, this comprehensive, self-paced e-learning course will help you master key project management concepts.